Blu-ray Music
Chrono Trigger Original Soundtrack Revival Disc
| | |
| --- | --- |
| アーティスト | 光田康典、植松伸夫、松枝賀子 |
| 発売日 | 2019/7/10 |
| 商品タイプ | Blu-ray |
| 品番 | SQEX-20066 |
| 価格 | ¥5,000+税 |
| レーベル | SQUARE ENIX MUSIC |
| 発売元 | 株式会社スクウェア・エニックス |
| 仕様 | BDM(Blu-ray Disc Music)/BD1枚組/スリーブケース付きデジパック/フルカラーブックレット |
| 内容 | 作曲、編曲:光田康典 (M01~16, 19~24, 26, 28~30, 32~38, 40, 42~43, 45~48, 50~53, 55~64) |
| C表記 | © 2019 SQUARE ENIX CO., LTD. All Rights Reserved. © 1995 SQUARE ENIX CO., LTD. All Rights Reserved. Characters: © 1995 SQUARE ENIX CO., LTD. © 1995 バードスタジオ / 集英社 |
MOVIE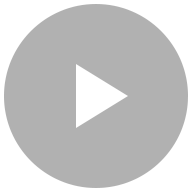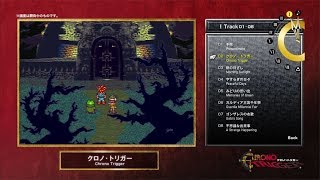 LINK
INFOMATION
ゲームファン必「視」聴! 当時の思い出を濃縮して閉じ込めたリバイバル版サントラが登場!

1995年発売以降、累計出荷・ダウンロード販売本数550万本以上を記録している家庭用ゲームソフト「クロノ」シリーズ(クロノ・トリガー/クロノ・クロス)より、シリーズ原点となるSFC版『クロノ・トリガー』のゲーム映像付きサウンドトラックが発売決定!

●1995年発売のSFC版『クロノ・トリガー』の名シーンを楽曲と共に楽しめる、ゲーム映像付きサウンドトラック(MP3音源ダウンロード機能付き) ●今回のリバイバルディスク用にリマスターされた全60曲以上を収録! ●デジパック仕様の付属ブックレットには作曲家・光田康典氏によるライナーノーツを掲載
MUSIC LIST
| | |
| --- | --- |
| 1 | 予感 |
| 2 | クロノ・トリガー |
| 3 | 朝の日ざし |
| 4 | やすらぎの日々 |
| 5 | みどりの思い出 |
| 6 | ガルディア王国千年祭 |
| 7 | ゴンザレスのお歌 |
| 8 | 不思議な出来事 |
| 9 | 風の憧憬 |
| 10 | おやすみ |
| 11 | 樹海の神秘 |
| 12 | 戦い |
| 13 | ガルディア城~勇気と誇り~ |
| 14 | んっ!? |
| 15 | マノリア修道院 |
| 16 | 道行く者へ 祈りを・・・ |
| 17 | 沈黙の光 |
| 18 | ボス・バトル1 |
| 19 | カエルのテーマ |
| 20 | ファンファーレ1 |
| 21 | 王国裁判 |
| 22 | 隠された事実 |
| 23 | 危機一髪 |
| 24 | 荒れ果てた世界 |
| 25 | 過去の謎 |
| 26 | 16号廃虚 |
| 27 | 生きる望みをすてた人々 |
| 28 | ラヴォスのテーマ |
| 29 | 世界最後の日 |
| 30 | 暴走ロボ軍団ジョニー |
| 31 | バイクチェイス |
| 32 | ロボのテーマ |
| 33 | 工場跡 |
| 34 | 戦い2 (unreleased track) |
| 35 | ファンファーレ2 |
| 36 | 時の最果て |
| 37 | 愉快なスペッキオ |
| 38 | ファンファーレ3 |
| 39 | 地下水道 |
| 40 | ボス・バトル2 |
| 41 | 原始の山 |
| 42 | エイラのテーマ |
| 43 | 風と空と大地のリズム |
| 44 | 燃えよ!ボボンガ! |
| 45 | 魔王城 |
| 46 | 錯乱の旋律 |
| 47 | 魔王決戦 |
| 48 | 歌う山 (unreleased track) |
| 49 | ティラン城 |
| 50 | 夜の底にて |
| 51 | 時の回廊 |
| 52 | ジール宮殿 |
| 53 | サラのテーマ |
| 54 | 封印の扉 |
| 55 | 海底神殿 |
| 56 | クロノとマール~遠い約束~ |
| 57 | シルバード~時を渡る翼~ |
| 58 | 黒の夢 |
| 59 | 決意 |
| 60 | 世界変革の時 |
| 61 | ラストバトル |
| 62 | 星の祝祭 |
| 63 | エピローグ~親しき仲間へ~ |
| 64 | 遥かなる時の彼方へ |
Blu-ray Music
Chrono Trigger Original Soundtrack Revival Disc
| | |
| --- | --- |
| アーティスト | Yasunori Mitsuda, Nobuo Uematsu, Noriko Matsueda |
| 発売日 | 2019/7/10 |
| 商品タイプ | Blu-ray |
| 品番 | SQEX-20066 |
| 価格 | 5,000 JPY + tax |
| レーベル | SQUARE ENIX MUSIC |
| 発売元 | SQUARE ENIX HOLDINGS CO., LTD. |
| 仕様 | BDM(Blu-ray Disc Music) / 1 disc / Digipak with a fullcolor brochure |
| 内容 | |
| C表記 | © 2019 SQUARE ENIX CO., LTD. All Rights Reserved. © 1995 SQUARE ENIX CO., LTD. All Rights Reserved. Characters: © 1995 SQUARE ENIX CO., LTD. © 1995 BIRD STUDIO / Shueisha Inc. |
MOVIE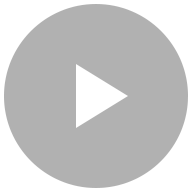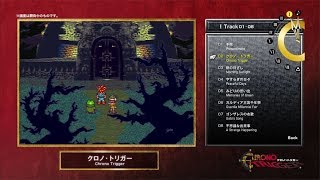 LINK
INFOMATION
From the beloved CHRONO series (CHRONO TRIGGER and CHRONO CROSS) which shipped over 5.5 million boxed and digital units since their release in 1995 – we bring you an audiovisual album of the original CHRONO TRIGGER.

Relive your memories with memorable in-game scenes and music contained in this "revival" album! Also contained are MP3 files of the music tracks, so that you can take the music on the go on your laptop or smartphone.

There is a booklet attached to the packaging; inside it are liner notes from composer Yasunori Mitsuda.
MUSIC LIST
| | |
| --- | --- |
| 1 | Presentiment |
| 2 | Chrono Trigger |
| 3 | Morning Sunlight |
| 4 | Peaceful Days |
| 5 | Memories of Green |
| 6 | Guardia Millennial Fair |
| 7 | Gato's Song |
| 8 | A Strange Happening |
| 9 | Wind Scene |
| 10 | Goodnight |
| 11 | Secret of the Forest |
| 12 | Battle 1 |
| 13 | Courage and Pride |
| 14 | Huh?! |
| 15 | Manoria Cathedral |
| 16 | A Prayer to the Road that Leads |
| 17 | Silent Light |
| 18 | Boss Battle 1 |
| 19 | Frog's Theme |
| 20 | Fanfare 1 |
| 21 | Kingdom Trial |
| 22 | Kingdom Trial |
| 23 | A Shot of Crisis |
| 24 | Ruined World |
| 25 | Mystery of the Past |
| 26 | Lab 16's Ruin |
| 27 | People Without Hope |
| 28 | Lavos' Theme |
| 29 | The Day the World Revived |
| 30 | Robo Gang Johnny |
| 31 | Bike Chase |
| 32 | Robo's Theme |
| 33 | Remains of the Factory |
| 34 | Battle 2 |
| 35 | Fanfare 2 |
| 36 | Brink of Time |
| 37 | Delightful Spekkio |
| 38 | Fanfare 3 |
| 39 | Underground Sewer |
| 40 | Boss Battle 2 |
| 41 | Primitive Mountain |
| 42 | Ayla's Theme |
| 43 | Rhythm of Wind, Sky and Earth |
| 44 | Burn! Bobonga! |
| 45 | Magus' Castle |
| 46 | Confusing Melody |
| 47 | Battle with Magus |
| 48 | Singing Mountain |
| 49 | Tyran Castle |
| 50 | At the Bottom of Night |
| 51 | Corridors of Time |
| 52 | Zeal Palace |
| 53 | Schala's Theme |
| 54 | Sealed Door |
| 55 | Undersea Palace |
| 56 | Far Off Promise |
| 57 | Wings That Cross Time |
| 58 | Black Omen |
| 59 | Determination |
| 60 | World Revolution |
| 61 | Last Battle |
| 62 | First Festival of Stars |
| 63 | Epilogue ‾ To Good Friends |
| 64 | To Far Away Times |